Type

Ability

Hidden Ability

Gender ratio

Catch rate

Breeding

Height

Weight

Base experience yield

Leveling rate

EV yield

Total: 1

1
HP
0
Atk
0
Def
0
Sp.Atk
0
Sp.Def
0
Speed

Body style

Footprint

Pokédex color

Base friendship

Cry

On Bulbapedia

Tepig is a Fire type Pokémon. It evolves into Pignite starting at level 17, which evolves into Emboar starting at level 36.
It is one of the eighteen Starter Pokémon, able to be chosen at the start of Pokémon Reborn.
PhysiologyEdit
Tepig is a quadruped, pig-like Pokémon that is primarily orange. It has oval eyes, a pink nose, and a thick yellow stripe on its snout. The upper portion of its head is dark brown, and its long, pointed ears are positioned closely together. Tepig has short legs, and its front feet are dark brown. A dark brown band covers its lower back and rear. Its curly tail is tipped with a ruddy pink sphere. Tepig is a nimble Pokémon capable of blowing fire from its snout. It will cloak itself in these flames in order to use its signature move, Heat Crash. However, it will spout thick, black smoke when ill. Tepig will roast berries before eating them, but occasionally gets overexcited and burns them.
Game locations
Edit
Availability
| | |
| --- | --- |
| Gift | Starter Pokémon received from Ame |
Held items
Edit
Held item(s)
| | |
| --- | --- |
| None | This Pokémon cannot be found holding an item. |
Base stats
Edit
Stat

Range

At Lv. 50

At Lv. 100

125 - 172

240 - 334

61 - 126

117 - 247

45 - 106

85 - 207

45 - 106

85 - 207

45 - 106

85 - 207

45 - 106

85 - 207

Minimum stats are calculated with 0 EVs, IVs of 0, and a hindering nature, if applicable. Maximum stats are calculated with 252 EVs, IVs of 31, and a helpful nature, if applicable.
Type effectiveness
Edit
| | |
| --- | --- |
| Under normal battle conditions, this Pokémon is: | |
Evolution
Edit
Unevolved

Tepig




 Fire 




Level 17


→



Level 36


→
Front

Back

Front shiny

Back shiny
Egg Sprite
Edit
Egg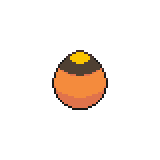 Tepig's shiny seems to be based on bacon (Yumm!).
Starter Pokémon
Grass


Bulbasaur

Chikorita

Treeko

Turtwig

Snivy

Chespin

Fire


Charmander

Cyndaquil

Torchic

Chimchar

Tepig

Fennekin

Water


Squirtle

Totodile

Mudkip

Piplup

Oshawott

Froakie
Ad blocker interference detected!
Wikia is a free-to-use site that makes money from advertising. We have a modified experience for viewers using ad blockers

Wikia is not accessible if you've made further modifications. Remove the custom ad blocker rule(s) and the page will load as expected.