Squirtle




Tiny Turtle Pokémon

#007

Type

Ability

Hidden Ability

Gender ratio

Catch rate

Breeding

Height

Weight

Base experience yield

Leveling rate

EV yield

Total: 1

0
HP
0
Atk
1
Def
0
Sp.Atk
0
Sp.Def
0
Speed

Body style

Footprint

Pokédex color

Base friendship

Cry

On Bulbapedia

Squirtle is a Water-type Pokémon. It evolves into Wartortle starting at level 16, which evolves into Blastoise starting at level 36.
It is one of the twenty one Starter Pokémon, able to be chosen at the start of Pokémon Reborn.
PhysiologyEdit
Squirtle is a small Pokémon that resembles a light blue turtle. While it typically walks on its two short legs, it has been shown to run on all fours in Super Smash Bros. Brawl. It has large brown eyes and a slightly hooked upper lip. Each of its hands and feet have three pointed digits. The end of its long tail curls inward. Its body is encased by a tough shell that forms and hardens after birth. This shell is brown on the top, pale yellow on the bottom, and has a thick white ridge between the two halves.
Special abilitiesEdit
Squirtle's shell is a useful tool. It can withdraw into the shell for protection or for sleeping, and its grooved, rounded shape helps to reduce water resistance when this Pokémon swims. Squirtle can spray foamy water from its mouth with great accuracy.
Squirtle is scarce in the wild, although it can be found around small ponds and lakes. The anime has shown that it can be found living on secluded islands with other members of its evolutionary line.
Game locations
Edit
Availability
| | |
| --- | --- |
| Gift | Starter Pokémon received from Ame |
Held items
Edit
Held item(s)
| | |
| --- | --- |
| None | This Pokémon cannot be found holding an item. |
Base stats
Edit
Stat

Range

At Lv. 50

At Lv. 100

104 - 151

198 - 292

47 - 110

90 - 214

63 - 128

121 - 251

49 - 112

94 - 218

62 - 127

119 - 249

43 - 104

81 - 203

Minimum stats are calculated with 0 EVs, IVs of 0, and a hindering nature, if applicable. Maximum stats are calculated with 252 EVs, IVs of 31, and a helpful nature, if applicable.
Type effectiveness
Edit
| | |
| --- | --- |
| Under normal battle conditions, this Pokémon is: | |
Evolution
Edit



Level 16


→



Level 36


→



Mega Evolution


→

Mega evolution

Mega Blastoise




 Water 
Front

Back

Front shiny

Back shiny
Egg Sprite
Edit
Egg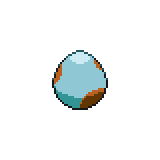 The Squirtle line's shiny sprites are a reference to Teenage Mutant Ninja Turtles.
Starter Pokémon
Grass


Bulbasaur

Chikorita

Treeko

Turtwig

Snivy

Chespin

Rowlet

Fire


Charmander

Cyndaquil

Torchic

Chimchar

Tepig

Fennekin

Litten

Water


Squirtle

Totodile

Mudkip

Piplup

Oshawott

Froakie

Popplio