...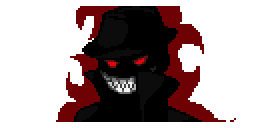 Shade is the fifth gym leader, who hands out the fourth gym badge. He specializes in Ghost-types and is fought at the Abandoned Power Plant. He hands out the Omen Badge.
Shade is fought on a Short-circuit Field and has two Ultra Potions.
| | |
| --- | --- |
| | |
| ??? | |

Held item:

Wide Lens

Corey

Lv.35

Held item:

Leftovers

Rotom

Lv.37
Interview
Edit
Seen on the Interviews channel after saving the Obsidia Ward
Gossip Gardevoir's interview intermission!

Hello! Gossip Gardevoir here in Interview Intermission, bringing YOU the inside scoop on Reborn's celebrity figures!

Today we've got a special report with Shade, Reborn's Ghost Gym Leader!

Mister Shade, could you tell us what you're doing when you're not conducting your League Battles?

SHADE: ...

GARDEVOIR: ...Yes... Um... Do you have any particular hobbies or... aspirations?

SHADE: ...

GARDEVOIR: Maybe an old childhood-wait, did you even HAVE a childhood? Are you... dead or alive?

SHADE: ...

GARDEVOIR: Ugh, I knew this would happen. Look, Shade-thingy, Luna really likes you, so I don't want to have to-

SHADE: ...To they who sleep before the screen,

Glazing words and counting sheep,

Find the seer of the unseen,

Deliver her from flat-line creep.

GARDEVOIR: What did you- Hey! Where did he go?! He was here just a second ago... Did he run off? Ugh...

That's all on today's Interview Intermission. Until next time!
| | | |
| --- | --- | --- |
| | | |
| Trainer sprite | VS sprite | Overworld sprite |
Ad blocker interference detected!
Wikia is a free-to-use site that makes money from advertising. We have a modified experience for viewers using ad blockers

Wikia is not accessible if you've made further modifications. Remove the custom ad blocker rule(s) and the page will load as expected.