You're gonna rock this fight, aye?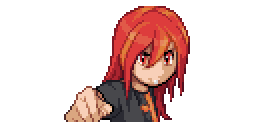 Hardy Andersen is the Gym Leader of the Reborn region, as well as the younger brother of Titania. He specializes in the Rock type.
In the game
Edit
Spoiler warning!
This article contains plot details about events that occur later in the game.
The only Pokemon known so far is his Gigalith.
Interview
Edit
Seen on the Interviews channel after obtaining the Venom Badge from Aya
Gossip Gardevoir's interview intermission!

Hello! Gossip Gardevoir here in Interview Intermission, bringing YOU the inside scoop on Reborn's celebrity figures!

So! Today I'm joined by Reborn's Gym Leader, Hardy!

So Hardy, I hear you're pretty adamant when it comes to defending rock types, right. Why's that?

HARDY: Aye. Here's the deal, you remember back in the old days before all this Steel type stuff, aite? See, back then, Rock was well known champ of defense. You know there ain't nothin' that's gonna beak it. But then this whole steel nonsense comes along, suddenly Rock is like old news, everyone's too caught up with the shiny new. But theres one thing, mate, Rock's still as solid as ever. It didn't change, it didn't get worse- it never was. It's the underdog, it's the sleeping giant, aye? So I roll with that, and dish out the pain!

GARDEVOIR: Very well said! You're certainly more personable than your sister, Titania!

HARDY: …Yea, that's not much of an accomplishment, yanno? But I rather not talk about her.

GARDEVOIR: I agree! She's so ungrateful, she should just never be mentioned ever because she doesn't deserve it!

HARDY: Um, did I miss somethin'?

GARDEVOIR: No! Nothing! It was Titania who missed out! But anyways…that's all on today's interview intermission. Until next time!
| | | |
| --- | --- | --- |
| | | |
| Trainer sprite | VS sprite | Overworld sprite |