Type

Ability

Hidden Ability

Gender ratio

Catch rate

Breeding

Height

Weight

Base experience yield

Leveling rate

EV yield

Total: 1

0
HP
0
Atk
0
Def
1
Sp.Atk
0
Sp.Def
0
Speed

Body style

Footprint

Pokédex color

Base friendship

Cry

On Bulbapedia

Fennekin is a Fire type Pokémon. It evolves into Braixen starting at level 16, which evolves into Delphox starting at level 36.
It is one of the eighteen Starter Pokémon, able to be chosen at the start of Pokémon Reborn.
PhysiologyEdit
Fennekin is a small, quadruped fox-like Pokémon. It is covered in pale yellow fur that is longer on its haunches. Tufts of dark orange fur cover the insides of its large ears, and it has a white muzzle with longer fur on its cheeks. Hot air is vented from its ears, reaching temperatures of over 390 degrees Fahrenheit. It has large, dark orange eyes and a pointed, black nose. When its mouth is open, two pointed teeth can be seen in its upper jaw. Fennekin also has small paws with no visible toes and slim legs. Its tail is fluffy with a dark orange tip. Fennekin chews on twigs instead of eating snacks. It can be temperamental, but it tries to do its best for its Trainer.
Game locations
Edit
Availability
| | |
| --- | --- |
| Gift | Starter Pokémon received from Ame |
Held items
Edit
Held item(s)
| | |
| --- | --- |
| None | This Pokémon cannot be found holding an item. |
Base stats
Edit
Stat

Range

At Lv. 50

At Lv. 100

100 - 147

190 - 284

45 - 106

85 - 207

40 - 101

76 - 196

60 - 125

116 - 245

58 - 123

112 - 240

58 - 123

112 - 240

Minimum stats are calculated with 0 EVs, IVs of 0, and a hindering nature, if applicable. Maximum stats are calculated with 252 EVs, IVs of 31, and a helpful nature, if applicable.
Type effectiveness
Edit
| | |
| --- | --- |
| Under normal battle conditions, this Pokémon is: | |
Evolution
Edit
Unevolved

Fennekin




 Fire 




Level 16


→



Level 36


→
Front

Back

Front shiny

Back shiny
Egg Sprite
Edit
Egg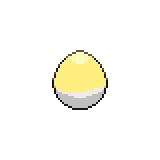 Starter Pokémon
Grass


Bulbasaur

Chikorita

Treeko

Turtwig

Snivy

Chespin

Fire


Charmander

Cyndaquil

Torchic

Chimchar

Tepig

Fennekin

Water


Squirtle

Totodile

Mudkip

Piplup

Oshawott

Froakie
Ad blocker interference detected!
Wikia is a free-to-use site that makes money from advertising. We have a modified experience for viewers using ad blockers

Wikia is not accessible if you've made further modifications. Remove the custom ad blocker rule(s) and the page will load as expected.