Spoiler warning!
This article contains plot details about events that occur later in the game.
I guess I have a habit of not really being what people want me to be.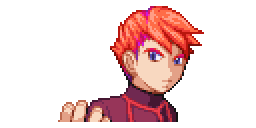 Cal Whitaker is a former gym leader of Reborn. He specializes in the Fire type.
Cal is fought on a Superheated Field and has two Ultra Potions.
| | |
| --- | --- |
| | |
| ??? | |
| | | |
| --- | --- | --- |
| | | |
| Trainer sprite | VS sprite | Overworld sprite |
Cal bears some resemblance to Malva of the Kalos region-Both specialize in Fire types, and both are part of the criminal organizations of their region.
All of Cal's Pokémon used during the battle in Pyrous Mountain except his Ace are fully evolved starter Pokémon.
Ad blocker interference detected!
Wikia is a free-to-use site that makes money from advertising. We have a modified experience for viewers using ad blockers

Wikia is not accessible if you've made further modifications. Remove the custom ad blocker rule(s) and the page will load as expected.