Yo, Reborn City, what's good! DJ Arclight, coming to you live!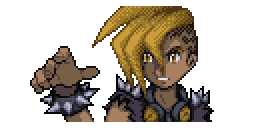 In the game
Edit
Spoiler warning!
This article contains plot details about events that occur later in the game.
DJ Arclight is first encountered outside of the Nightclub in the northern Opal Ward, where he introduces himself to the player and invites them to try meeting him in the Nightclub someday. However, he also warns them that this will be very difficult, as only Ace Trainers are allowed inside - and in Reborn, the best way to become an Ace Trainer is to defeat the Elite Four and the Reborn League, a daunting task.
Later, Arclight is encountered in Seventh Street, where he asks the player to buy several Pokémon kidnapped by Team Meteor from a vendor there, saying that at least that way he will know they are in good hands before he "deals with" the seller, who is later found having changed jobs to become a Move Tutor.
After the player returns from the Agate Circus after defeating Skydancer Ciel, Ame sends the player to get Arclight, Adrienn, and Victoria to help her carry out a raid on a Team Meteor base in Reborn itself. The five are captured and imprisoned, then forced to fight each other one on one (except for Ame, who battles and loses to Lin).
After receiving his "penalty" from Lin, Arclight reportedly had one of his eyes ripped out before being released.
First Battle
Edit
DJ Arclight is battled on a Factory Field, and has two Ultra Potions.
| | |
| --- | --- |
| | |
| | |

Held item:

Sitrus Berry

Exploud

Lv.75

Held item:

Petaya Berry

Jolteon

Lv.78
In the online league
Edit
| | | |
| --- | --- | --- |
| | | |
| Trainer sprite | VS sprite | Overworld sprite |
Ad blocker interference detected!
Wikia is a free-to-use site that makes money from advertising. We have a modified experience for viewers using ad blockers

Wikia is not accessible if you've made further modifications. Remove the custom ad blocker rule(s) and the page will load as expected.