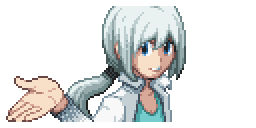 Adrienn Flores is one of the gym leaders of Reborn. Xe specializes in the Fairy type and hands out the Amaranth Badge.
In the game
Edit
Adrienn is first seen at the Citae Arc-d'Astrae Aerie with a Ditto disguised as Radomus's Gardevoir, where xe sides with El in trying to stop Radomus from taking the apparent Gardevoir back. Xe reveals that xe "fell down here when I was inspecting the Grand Gates about an hour ago".
Cain asks about Adrienn's gender, unsure if xe is a boy or a girl, to which Adrienn responds that xe identifies as non-binary, but that reaching the top of the aerie is a more pressing matter to focus on.
Shortly after the player defeats El, the player encounters Adrienn outside the Grand Gates with Cain and Radomus, where it becomes apparent that Adrienn was underneath the city for over a decade, a time in which the city has deteriorated drastically, almost beyond Adrienn's recognition.
The player, Radomus and Cain follow Adrienn to xyr gym in the Coral Ward, which Adrienn finds is in ruins. Radomus explains that the gym was left undisturbed in Adrienn's absence, and theorises that Adrienn was frozen in time. Adrienn announces that xe plans to restore not just xyr gym, but the whole of Reborn City.
Adrienn is battled on a Misty Field in Double Battle format. The Misty Field, when destroyed, becomes the Fairy Tale Field.
| | |
| --- | --- |
| | |
| ? | |
"I haven't had a battle this exhilarating in ages - even by my twisted timeline!" When sending out last pokemon.
| | | |
| --- | --- | --- |
| | | |
| Trainer sprite | VS sprite | Overworld sprite |
Ad blocker interference detected!
Wikia is a free-to-use site that makes money from advertising. We have a modified experience for viewers using ad blockers

Wikia is not accessible if you've made further modifications. Remove the custom ad blocker rule(s) and the page will load as expected.